Albert Einstein is reported to have defined insanity as doing the same thing over and over again and expecting different results. It seems that many in the EU, but not all, are realising their own insanity in trying to solve Europe's never ending recession by further rounds of austerity.
Italy finally has a new government that is committed to reverse some austerity measures to give chance to the economy to grow. They join the crusade started a year ago through the election of Hollande to French Presidency meant to shift German dictated EU policy from total focus on austerity to restructuring with growth policies.
Hollande relationship with Merkel is reportedly quite chilly and France is quietly building alliances with countries sharing anti-austerity feelings in order to force the issue with Germany after the elections due there in September.
He seems to be succeeding. Apart from having Italy's new PM Enrico Letta clearly under his wings, this week Hollande won new allies. Ireland's Head of State, Michael D Higgings, warned that the EU must drop its 'hegemonic' economic model or risk social upheaval and loss of popular legitimacy. Slovakia Prime Minister Robert Fico quipped how was it possible to cut public finances and expect government to have enough resources to support economic growth.
This follows surprisingly clear pronouncements from the EU Commission President Barroso that the policy of austerity had reached its practical limits.
It is only Germany and its northern allies who remain steadfast in their belief that austerity and growth are two sides of the same coin.
But even assuming that one can declare victory for the anti-austerity protesters, the obvious question is ' after austerity, what?' as the Economist is asking this week.
Nobody should run away with any idea that uncontrolled government spending, even if it were possible ( which it is not, especially for those countries under bailout conditions), is an effective solution. The monetary union can only be salvaged if there is fiscal discipline and the 3% to GDP maximum deficit and the zero deficit ultimate objective must remain in force even if applied flexibly to allow countries under bailout more time to reach the fiscal objectives through growth not just austerity.
But economic restructuring in order to regain international competitiveness must not be abandoned. The Agenda 2010 objective launched by former German Chancellor Schroeder and which converted Germany from a sick economy to a very competitive outfit should be a blueprint for other EU countries. Excessive job protection to those already in employment must not work to keep the unemployed out of the labour market. Social solidarity must be offered to those truly needing it as otherwise it cultivates dependency rather than efficiency and effectiveness.
However most of all the ECB has to be re-tooled to function as Central Banks normally do. Who needs a fire-engine if its bowsers are dry or cannot use the water to put out the fire?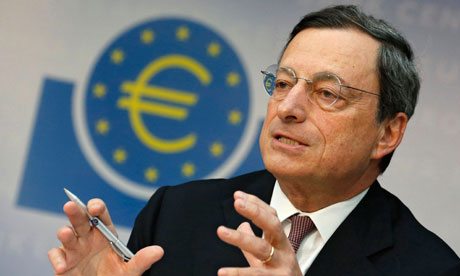 Europe will not re-discover growth before they clean up their zombie banking systems.
Arguments for a banking union and a common deposit insurance scheme will fail before such clean up takes place. Who will accept shared responsibility for insolvent banks?
The ECB should be mandated to force write-off of debt holders in such insolvent banks and then to recapitalise such restructured banks by large scale monetisation through the ESM. Burdening the sovereigns with such recapitalisations is useless. It would simply reinforce the pernicious link between the sovereigns and the banks and will reinforce their reflexive mutual distress.
The ECB has to be mandated to use non-conventional monetary measures to protect the EU from the risk of deflation, following what seems a never ending recession, and should be implementing such non-conventional measures with urgency when they see the inflation departing so materially to the downside from their target 2% inflation benchmark.
ECB President Mario Draghi said yesterday that he is frustrated seeing the banking mechanism broken and failing to transmit the signals of the ECB to ultimate borrowers. He should be frustrated with those who are prohibiting the ECB from acting as a proper central bank.